Business
A Brief Comparison of QuickBooks Online and Desktop: Which One Suits You Better?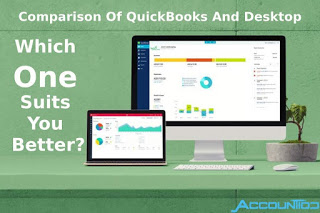 Well, if a company offers two of the best products in the same category, how will you choose one? That is the question when we are presented with two of the best products available in the market, which are QuickBooks Online and QuickBooks Desktop.
If you're presented with the same dilemma, we are exploring the differences between these versions of the somewhat same products available in the market. This article will be looking at the pricing, user experience, features, customer support, popularity, and more. Once you've finished reading this article, you'll be able to choose one confidently.
Let's get started.
QuickBooks Online Vs. QuickBooks Desktop
Well, both are built by Intuit and popular among the users. The critical difference between the two is that QuickBooks online is cloud-based with monthly pricing, and QuickBooks Desktop is a locally installed tool with a licensed pricing model.
Well, this is not the only difference between the two but before going deep into that, let's have a look at both of these tools.
QuickBooks Online – It is a cloud-based product aimed at people who want to take their work with them. It was launched in 2004 and is designed specifically for small businesses. But the newly developed advanced version of the tool is able to handle the larger business as well.
It comes with some robust features, online accounting, attractive invoices, multiple integrations, and some unique lending features. And the best part is that it is an easy to learn tool for anyone who wants to use it.
QuickBooks Desktop – This is a beast in terms of features available in it, and it is still going strong. It was launched in 1992, and it made Intuit what it is today. And after all these years, it is still one of the primary software chosen by the business owners.
It comes in many vainest, and all of them are geared towards the size of the businesses. And each of these versions consists of some of the best feature sets available today on the market.
How QuickBooks Online vs. Desktop Compares in Features Sets
Both of these tools have a large number of features available, and some of them are shared. Let's look at the comparison of the most common features of Accounting Software.
Accounting – Both of these programs operate on a true double-entry accounting principle and have cash-basis and accrual accounting. Both offer features like a chart, journal entries, accounts payable, basic reports, bank reconciliation, and more. But QuickBooks Online offers a service called QuickBooks Live Bookkeeping, where you can pay certified QBO accountant professionals for support.
Invoicing – In the Invoicing area, QuickBooks Online is way ahead of its counterpart. QuickBooks Online can be used to create some of the most beautiful, clean, and modern designs for customers to understand easily. At the same time, the invoicing system of QuickBooks Desktop is cluttered and not very good. In addition to better invoices, QuickBooks online can also be used to set up recurring payments and sending invoices to late-paying customers.
Payroll – Both of these tools don't offer payroll out of the box, but you can add another monthly subscription for payroll. Online QuickBooks Desktop Enterprise comes with a built-in payroll feature.
Reporting – Well, in this segment, QuickBooks Desktop fares better than its counterpart. You can avail of more than 130 reports in a month on the subscription, but QuickBooks online offers mere 80 reports per month. And both include some basic reports, which you will find on all accounting software available in the market.
Both of these tools have two different price strategies or structures you'd want from them.
QuickBooks Online has a monthly pricing structure, and there are four plans. QuickBooks online plans start at $25/month and go up to $150/month.
However, QuickBooks Desktop follows a completely different pricing strategy and follows a licensing model and a yearly subscription model. Their licenses come at $299.95 and $499.95 for Pro and Premier versions. However, the Enterprise Edition of the Desktop comes at a yearly subscription model, and it comes at $1091.70/year.
In QuickBooks Desktop vs. online version, the latter one is easier to use than the former one. People often complain about the learning curve for QuickBooks Desktop. However, accountants find QuickBooks Desktop pro and premier version easy to use. But in general, they are not as fun as you'd like.
Well, customer service for both the products has never been great and some people left the platform. But Intuit has tried to make a revamped help center for the users to be more user friendly. In comparison, QuickBooks online's customer service is slightly better than its counterpart, but it can still be improved.
Suppose you are using QuickBooks Online or Desktop and want to learn more about them, head over to the AccountIOD. It is one of the best blogs on accounting available on the Internet. Go ahead and check them out.