Tech
ActiveCampaign Affiliate Marketing – A Complete Beginners Guide
You'll find many popular names in hundreds of marketing platforms, and ActiveCampiagn is one of them. Jason VandeBoom created it in 2003 in the USA. It is an exceptional tool that combines ESP and CRM with strong automation capabilities, landing pages, and CRM tools to manage marketing campaigns and send personalized messages to your targeted customer base. It sustains the email list significantly and allows users to automate the whole marketing process for a flourishing online business. The company specializes in email, marketing, and sales automation. 
It has plenty of useful features such as affiliate programs, split testing, integrations, and much more. In this blog, we will tell you everything about ActiveCampaign affiliate marketing and ways to promote it. But before diving deep into the content, we suggest you read the detailed comparison guide of ActiveCampaign that has everything one must know about the software, such as features, pricing comparison, pros and cons, and much more. 
1.ActiveCampaign Affiliate Marketing
The ActiveCampaign Affiliate program is an excellent opportunity for online marketers to earn more money. You'll get a commission every time you share ActiveCampaign with other people. They provide up to 30% recurring commission on referrals. Unlike ClickFunnels, where you have many products to promote, ActiveCampaign promotes brand awareness. In the affiliate program, you can encourage your visitors to get started with ActiveCampaign and build effective marketing and sales campaigns. There are many ways for affiliate marketing which we will describe below but firstly, let's understand some affiliate terminologies;
1.1 Affiliate Marketing
It refers to a program where users can earn a fixed commission for driving leads or sales for its affiliate. Every business or software has its fixed commission percentage; for instance, ActiveCampiagn offers 30% commission, or ClickFunnels offers 40% recurring commission. 
1.2 Affiliate Links
Affiliate link terminology refers to links provided by the company (ActiveCampaign) that turn traffic to affiliate products or services. Marketers use these links in social media videos, blogs, and emails. It is the way where you can drive revenue for the affiliate. ActiveCampaign allowed email affiliate marketing but with some restrictions.
1.1 ActiveCampaign Affiliate Program
ActiveCampaign marketing or affiliate program refers to the process in which you can refer customers to ActiveCampaign and earn up to 30% commission on each customer's account value.
2. Ways to Promote ActiveCampaign
Below are four valuable and proven ways which can be used to promote your affiliate program.
2.1 Personal Recommendations 
Word of mouth marketing works in every century. You can spread information about ActiveCampaign in other businesses. Many companies are unaware of the power of email marketing and automation, and CRM functionality; you can help them discover the solution (ActiveCampaign) for a more efficient and successful business.
2.2 Reviews and Comparisons 
People are always in search of reviews and compliments from actual customers. By publishing a review or comparison guides, you may get attention from people searching for ActiveCampaign. 
2.3 Tutorials or Demo Videos 
You can promote ActiveCampaign by making tutorials to help the audience get started and formulate effective online marketing and sales processes. 
2.4 Email Marketing 
Email marketing enables you to focus on providing value or building a relationship with the audience. You can write emails that truly benefit your viewers in some way. People are more likely to buy from those they trust or who have helped them in the past.
3. Frequently Asked Questions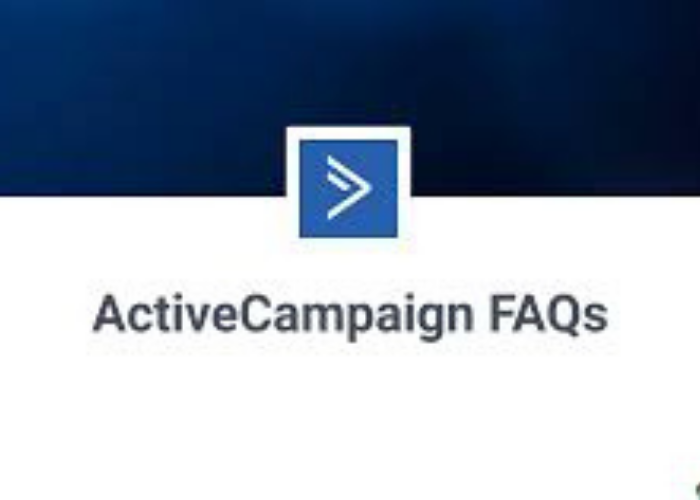 Here are some frequently asked questions about ActiveCampiagn affiliate marketing;  
3.1 What is affiliate marketing? 
Affiliate marketing is a program that enables individuals to become "Affiliates" and earn by successfully referring them to people and expanding their customer base. 
3.2 How do I become an affiliate marketer? 
You can be an affiliate marketer by following these five simple steps; 
Search for a valuable and exciting product. 

Sign up in the affiliate network.

Get the official affiliate link of the selected product. 

Add or share that link on your social media, blog, or email list.

The more sales you make, the more you gain worth as an affiliate marketer.
3.3 Who is qualified to be an affiliate? 
Anyone can be an affiliate; no specific qualification is necessary. You need to drive plenty of traffic via your affiliate link. Many ActiveCampaign affiliates, bloggers, YouTubers, and social media marketers drive a crazy lot of traffic every month.
3.4 Can you make good money with affiliate marketing? 
Affiliate marketing is very profitable, but you'll have to be fully committed in both your time and effort. Do complete research before jumping on the affiliate marketing program and choosing the SAAS and its products wisely. 
3.5 Is ActiveCampaign a funnel? 
ActiveCampaign is software that makes your sales funnel prosperous by providing plenty of tools such as email sequences, landing page templates, marketing automation, and many others.
Author Bio:
Ayesha Pasha is an avid writer with expertise in different niches, including sports, fitness, fashion, business, and more. Known for his engaging writing style and in-depth knowledge of the latest trends in all industries, Ayesha enjoys a decent reader base.