Tech
Samsung's foldable phone
Samsung has just unveiled its long-rumored foldable display phone at the company's annual developer conference on Wednesday night.
Samsung is calling this new device a "Foldable Unfolding Smartphone" right now, though that may not be the final name of the device when it launches later this year or early next year (it will likely be called something like Galaxy Fold). This isn't some kind of prototype concept. It's an actual product intended for consumers to buy it even looks quite finished in the photos we're seeing and you can expect reviews from various publications fairly soon, maybe by next week if everything goes smoothly.
The big news with this phone is what unfolds out from its core: A 7.3-inch display that Samsung says is "the world's first" smartphone foldable screen. This specific screen is a flexible OLED display, which means it folds inwards like an old-style flip phone the two sides are connected by a hinge (like some tablets) and you can bend them all the way back on themselves if you wanted to.
Samsung has clearly worked pretty hard on this screen design, as it has protected it with multiple layers of Gorilla Glass 5, which should help prevent scratches when repeatedly opening and closing the device, according to Samsung. There's also some kind of protective layer underneath that glass, presumably to soften impact damage if you do happen to drop your phone while holding it open.
The Galaxy Fold looks more or less like any other modern smartphone. It has three cameras: a wide-angle camera on the front, a telephoto camera in the rear (which is what you'll use to take zoomed-in photos), and another 3x zoom lens tucked away behind those two cameras.
The Galaxy Fold comes with an "unprecedented" amount of storage (12GB) for Samsung phones at launch that will certainly be welcome if you plan to download lots of apps, games, and media onto your phone. And it supports fast gigabit LTE speeds (same as every other mobile device announced today), so web browsing should be speedy once it's out for sale.
You can control this phone using either its embedded fingerprint reader or facial recognition technology; both are options, but neither is capable of authenticating you for every single task on this phone. Samsung's new One UI software takes advantage of the large display by putting more content and controls in a single place; it also moves things around to avoid wasting space when the device is fully opened.
The Galaxy Fold has all the usual connectivity features USB-C port (for charging), Bluetooth 5.0, GPS, and s WIMAX MIMO along with an IR blaster if you want to control TV sets or other appliances using your phone. The phone will run Android 9 Pie out of the box, so that's as up-to-date as you can get on any handset right now (including Google's Pixel 3 phones).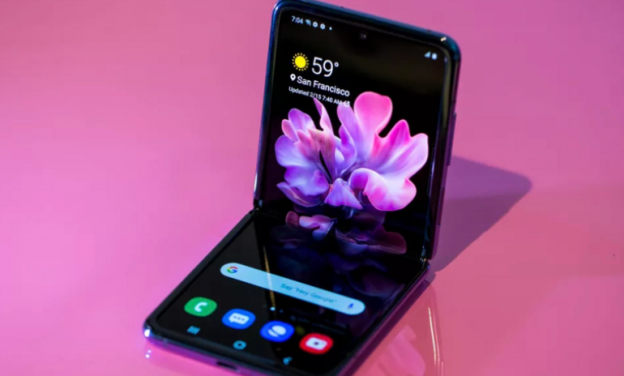 SPECS – Samsung foldable phone
Display: 7.3-inch flexible OLED (1440×2000)
Processor: Qualcomm Snapdragon 855 or Exynos processor (depending on the market)
RAM: 12GB
Storage: 512GB (expandable with microSD card)
Cameras (rear): 12MP wide-angle camera, 16MP telephoto camera and an additional 3x zoom lens; (front): 10MP wide-angle camera
Battery: 4,380mAh with 25W fast charging
MORE DETAILS – Samsung foldable phone Samsung s10 s9 s8 plus s7 s6 s5 s4 s3 s2 s1 Samsung note 9 s9 plus iPhone x galaxy s9 LG G7 Oneplus 6 Google Pixel 2 HTC U11 Huawei Mate 20 Pro Motorola Moto X4 Tech Daily Magazines.