Tech
Top Benefits of Time Tracking Software and How it Helps with Resource Management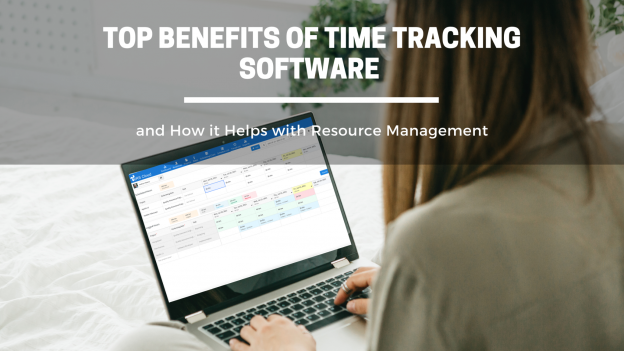 With long to-do lists, juggling multiple projects and team members, project managers often struggle with timelines. The organizational responsibilities seem overwhelming and time is often equated with money. Therefore, you need to evolve the way you work if you wish to be ahead of the competition. So, how can you efficiently coordinate between your team members, clients, and your projects? By implementing the right time tracking software. A cloud-based time tracking and resource management software enables your team to track and enter their time on any device and from anywhere. A time tracking software enhances efficiency by tracking the work activities and time spent by a team or a resource. The timesheet entries can be used to compute quotes, run various reports, and generate invoices without the worry of double entries. Read on to see how such a tool helps in the resource management process.
Key Benefits of a Time Tracking Software for Your Organization 
Here is how a time tracking software helps in ensuring the best use of your time and resources.
Track how your resources utilize their time
A team always has different kinds of resources. A few team members could be highly driven and self-starters whereas others could be hesitant to take on any responsibility. As a project manager, your goal is to get various tasks in a project done in a limited time. How can you make sure that each team member spends their time efficiently? Though you may trust your team, it's imperative for you to know how they're utilizing their time on a daily, weekly, and monthly basis. This is where a time tracking software can help in a big way. It provides a realistic view of how, when, and where each resource is spending its time. It flags if anyone is wasting their time on redundant tasks or activities. This helps in setting a clear priority so that the project timelines can be met.
Strengthen your foundation with a comprehensive plan
It's a given that a detailed project and resource plan is the foundation of any project. It's very important to know what all needs to be achieved in how much time and with how many resources. Another important factor is to calculate how much time all the tasks and sub-tasks will take. Then, as the project starts, you need to measure and track the effort spent by your team on various tasks. This helps in finding where the gaps lie and what can be done to resolve them. A detailed plan also ensures that the team stays on track with all project deliverables. A resource management software provides accurate project estimates for any future projects based on previous successful ones. This is possible only if there were precise time entries.
Compute total project hours
A time tracking software enables project managers to determine the total effort or billable time in a project. So, for instance, a project will take 200 work hours to be completed in one month with a certain number of resources. If the team has already exhausted 150 hours out of that, you have just 50 hours of time/effort remaining to be spent. Thus, you need to plan and work accordingly so that there are no time or budget overruns. If your team logs in more hours than planned, then your profit margin will take a hit. Leading resource management software have a built-in feature that enables you to track all your resources' effort, utilization, and the status of client payments too.
Evaluate your team's overall capacity
As things are too dynamic in the business environment these days, it's difficult to predict the overall capacity. However, a time tracking software helps in estimating your team's total capacity while baking in uncertain factors like sick leaves or unplanned absenteeism. It also helps to keep the payroll spending in check and ensures that you divide the workload in a balanced manner. For example, it's important to check at what level is a resource in terms of his or her capacity for a week or month. If someone is over-allocated or assigned tasks up to their full capacity, then you need to assign some things to another team member who has some available time. Therefore, the right resource management software like eResource Scheduler enables you to do resource planning, resource management in an optimal manner while tracking time too.
Improved resource management and scheduling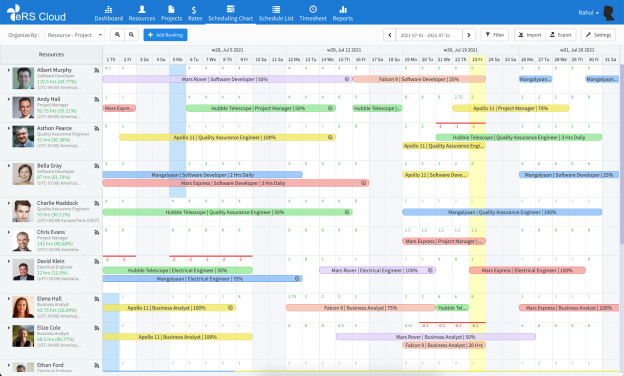 In today's times, most employees work remotely and organizations operate with distributed teams. In such a scenario, it is possible that all the team members do not log in on time, or leave early, or don't put in enough dedicated effort. Now, the question is how can you control all this remotely? How can you control the hours they put in or how much is their productive output? The answer is to implement a time tracking software as that can save a lot of money. Such a tool enhances the resource management and scheduling process, which in turn, increases the profit margins.
Maintain up-to-date and detailed timesheets
Usually, organizations use spreadsheets to record the timesheets of their employees. But it is difficult to track people's schedules and activities if the organization is huge and has people working in different locations. Using the right time tracking software is a solution in this case. It enables the managers to monitor the activities and utilization of their team members. It also ensures that all the project milestones stay on track. Such a resource management software records and maintains the timesheets of all employees across verticals and levels and makes the updates in real-time. People can log in to the tool and enter their schedule from anywhere, at any time. This ensures that the team members feel accountable for their own activities and how they utilize their time.
Create better workflows
A time tracking software also provides relevant data and information that is required to assess your organization's current workflows. As a project manager, you should review the original project timeline decided by the stakeholders. Next, compare it with the actual output of your team and identify resource shortages and other gaps. This helps in flagging the exact areas that need improvement. If you make your workflows better and seamless, the employees can use their time efficiently and increase their utilization. It also helps you to think of solutions for any upcoming challenges that may lead to extra time being spent on tasks or projects.
Successfully handle any scope-creeps or deviations
Even after detailed planning, unexpected project deviations do happen in projects. It's better to be ready for any scope-creeps that may arise as that impacts the budget and profitability. At times, clients end up requesting some functionality or additions at later stages of the project which throw the schedule and effort out of gear. However, using a time tracking software to monitor your team's time, effort, and the project budget is a game-changer. This tool highlights any discrepancies like deviations or possible scope creep ahead of time and gives you time to prepare for resolutions.
Find which area has maximum resource demand
After you calculate the time or effort needed to complete a particular task, you can determine how many resources you need and what is skillset they should have. In case, you need more resources, be it human, machinery, or technology, you can find the best fit with a resource management software. Such a tool also provides a clear insight into which resource will be the most suitable in terms of value. With this information, you can make the best teams with the right competencies and allocate people wherever there is maximum demand.
Effectively manage the pricing
Have you reconsidered your pricing for different clients and projects lately? How do you decide if you need to revise the pricing or not? You can take this call very easily with the help of a resource management software. The analytics from an AI-based tool can help you determine your costs, expenses vis-à-vis your pricing. You can also compute the time taken to complete a task or project in some easy steps. Then, you subtract all the expenses being incurred, such as salaries, expenses, overheads, etc. to decide if your present pricing is profitable or not. If your organization has been charging less and is not profitable, then you should re-visit your rates or pricing. Top-notch resource management software has AI-enabled algorithms that guide you on how to boost your profitability by optimally using your resources.
Also read: How to Login Charter.net (Spectrum) Email?
How can eResource Scheduler Help in Resource Management and Time Tracking?
Are you looking for optimizing your available resources? Or enhancing their utilization? If so, then try implementing the award-winning resource management software, eResource Scheduler. This time tracking software offers real-time visibility of your complete resource pool. It also becomes your central repository of all company-wide resources, their projects, utilization, and performance. This resource management software helps to improve coordination between employees and teams and identify the most suitable resources for the right projects. It also increases employee satisfaction as people are aligned to tasks of their interest and matching their skill set. The project managers can easily analyze the utilization metrics and manage their remote teams effectively. A leading time tracking software like eResource Scheduler is easily integrated with your organization's existing software. Wish to learn more about this advanced tool? Sign up today for a free trial and see how eResource Scheduler transforms your resource management process.