Lifestyle
Top Four Breitling Watches Under $5,000 That You Should Not Miss.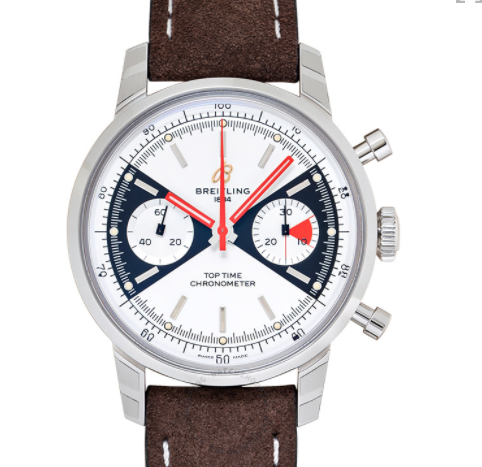 Breitling has been one of the most famous watch designers in this industry. The reason for that is because they have been making and designing timepieces for a long time now. And because of that, they have had tons of time to practice and perfect their art. So, if you are looking for a piece that makes you feel good and unique at the same time, check this out.
But the best thing about Breitling is not just because they make beautiful pieces; they price them reasonably. Almost all of their models have fair and reasonable prices. So now, if you are looking for something that would make you feel good about the design and price, here are some of the best ones.
Breitling Chronospace Black Steel Automatic 46mm A23310121G1X1
The first piece that will be presented to you is probably the most expensive one on this list—introducing the Breitling Chronospace Automatic Black Steel 46mm with a model number of A23310121G1X1. Breitling specifically made this for all classic and vintage enthusiasts. That is due to its design and leather strap. Check this one out.
However, the classic design is not the only thing that makes this a timepiece worth drooling over. Breitling also embedded it with tons of jewels. Some of those features are the 48-hour power reservoir and a fully automatic, luminous red hand. It also has 27 different gems. But the best thing is that it only amounts from $4,000 up to $5,000.
Breitling Superocean Heritage 57 Black Dial Automatic Men's Watch A10370121B1X2
The next piece you will be presented with is the Breitling Superocean Heritage 57 Black Dial Automatic Men's Watch. With a model number of A10370121B1X2. It is another classic-looking piece because it was made with a pure Alligator leather strap. But with its color scheme, you would not realize that it was designed for classic enthusiasts.
What makes this glow is that it is made out of a Rose Gold material. It also has a water resistance feature of about 100 meters. So that means you would be able to bring it even if you dip in the water. Another fantastic fact about this watch is that it is also made with 25 different jewels embedded. And you can buy this for about $3,500 up to $4,000 only.
Breitling Superocean Black Dial Chronograph Men's Limited Edition Watch 46mm M73310B7/BB72
This piece is not the same as the other two because it does not have that classic-looking vibe. Though it still has a strap made out of Alligator leather, the design is just not the same. Instead, it has that futuristic look due to all the features that have been embedded in it. From the dial to its hands, it looks like a fully automatic watch.
One of the best features that this piece has and why it is considered the best is its color scheme. It has an all-black color combination from the dial to the strap. That means you would not need to worry about pairing this with your daily outfit. Just look at it and be ready for its price range of about $3,000 up to $3,500 only.
Breitling Aviator 8 Automatic 41 Blue Dial Stainless Steel Watch A17315101C1X1
Saving the best for last is the Breitling Aviator 8 Automatic 41 Blue Dial Stainless Steel Watch. It has model number A17315101C1X1 if you want to find it easily. Breitling also made this for all of the classic enthusiasts out there. It has a dark brown colored leather strap that would look great in any of your formal attires.
This is one of their mostly sold watches because it has that vibe that would make you feel good all the time. So, if you are in the mood to find a timepiece where you would look amazing and feel extravagant at the same time, you better not miss the chance to check this one out. Also, it has the lowest price range of the bunch at about $2,000 up to $3,000.
Takeaway
There you have it, four of the best and most fantastic Breitling watches ever created. Be sure to check them all out before you decide to look at a different brand. Once you get to see how amazing they are, rest assured that you will love every single one of them. The only problem you have now is which of the four to choose.