Tech
What is Splunk with SIEM?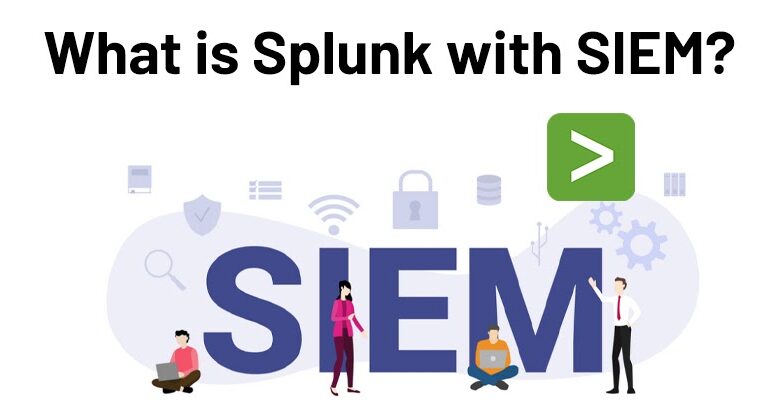 Here in this article, we will discuss What is Splunk? and What SIEM is?, how people interchange the terms, do they mean the same or different, where SIEM lags, and where Splunk marches ahead. Read this blog to get a deeper insight into this topic "What is Splunk with SIEM?
What is Splunk?
Splunk is used for searching, monitoring, visualizing, and analyzing machine data that is generated from various machines in real-time through a web-based interface. It is generally used to identify data patterns, offering metrics, detecting and diagnosing problems, and providing the intelligence required for business operations. It is used for log management and analysis. Splunk is used across various domains like business and web analytics, security and compliance, applications management, etc.
Many people do ask this common question: Is Splunk a SIEM? The answer is No, but you can use Splunk for similar purposes. Splunk helps in storing real-time machine data as indexers. Splunk is good for visualizing data in the form of dashboards. Enroll in this industry-standard Splunk Online Training to master Splunk.
What is SIEM? 
Security Information and Event Management, or simply SIEM, comes within the domain of computer security. In SIEM, software services and products combine security event management and information management. SIEM helps you in offering real-time analysis of security alerts that are generated by applications and network hardware.
Features of SIEM
SIEM cannot meet today's pace and sophistication of cyber threats. Here are some of the features of SIEM that you must take a look into:
Visibility: SIEM helps you with the early detection of threats in your systems. Even if you are a big company or a small company SIEM helps you stay safe by alerting you if something is compromised.
Flexibility: SIEM offers you flexibility by offering you the chance to run specific tests which interest you. There are many products and services of SIEM that you can use in your company suiting your business use-cases.
Tension-Free: Without SIEM, you will be a sleeping victim to cyberattacks as you wouldn't know when it will occur. But with SIEM, you can remain tension-free as you will be able to spot issues much faster, and nothing goes by without notice.
Cost-effective: With SIEM taking over your security requirements, there is little need for hiring an IT staff. It is an investment that is a cost-effective solution for running your business.
Features of Splunk
There are many features of Splunk, and they are:
Visibility: It helps us connect security and non-security data both across organizational silos and multi-cloud environments. By doing this, it would help in better investigations and incident response.
Efficiency: Splunk helps in collecting, aggregating, removing duplicates, and prioritizes threat intelligence from different sources, thus improving security investigations and efficiency. Watch the following video on Splunk to get a better insight.
Flexibility: Splunk is a modern platform of Big Data when compared to SIEM. It allows you to solve and scale your security use-cases for security operations and compliance, security operations management, and many other. It could be deployed on-premises, cloud, or even hybrid-cloud environments.
Behavioral Analytics: Splunk uses Machine Learning (ML) to detect issues and optimize security operations, reduce the complexities, speed up investigations, respond to attacks and other threats faster.
Limitations of Traditional SIEM
Limited security data types and is unable to ingest data effectively.
No scalability, slow investigation system, and an unstable system.
Uncertain roadmap and closed ecosystem
It is limited to on-premises deployment, and use cases are not actionable.
Benefits of Splunk
Much quicker troubleshooting that gives instant results, with enhanced GUI with dashboards.
Perfect for root cause analysis and offers you access to create dashboards, alerts, and graphs.
You can investigate and search for specific results.
It has AI coupled with SIEM as a Service.
Has better log management from multiple sources and accepts data from multiple formats.
Creates one single repository for all the Splunk data from multiple sources and many more.
The architecture of Splunk
Splunk Architecture consists of several components like:
Universal Forward: is a lightweight component installed on an application server or the client-side.
Load Balancer: is the default load balancer of Splunk.
Heavy forward: is a heavy component that filters data.
Indexer:  is used for storing data and indexing it.
Search head: performs reporting that helps gain intelligence.
Deployment Server: is used to deploy configuration.
License Manager: checks the licensing details of users.
Spark Products
There are three products of Splunk, and they are:
Splunk Enterprise Security:
A SIEM system that uses this data that is machine-generated to fetch operational insights on vulnerabilities, threats, security technologies, and identity information.
Splunk Enterprise:
It is used to collect and analyze Big Data that is generated by systems, technology infrastructure, and apps to offer you complete visibility across the security stack of your business operations.
Splunk Adaptive Response:
It is the framework of adaptive operations in which the top security vendors come together and collaborate to improve security operations and strategies.