Business
What Sort Of Significant Role Freight Forwarding Company Imparts?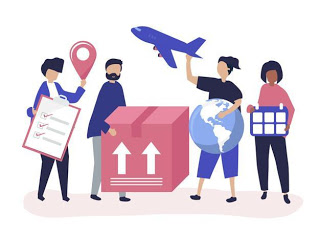 A freight forwarder company is responsible for helping you arrange your imports and exports. There are many companies indulged in this sort of business where they have to import and export the goods more often. Freight Forwarder Company is responsible for dealing with the logistics of preparing tracking cargo, documentation, or filing insurance claims.
The best thing is that some freight forwarding companies also introduce amazing options in comparison to others. Some of them also allow their customers to choose the service going with their organization.
A Freight Forwarder and Its Job –
Here it needs to mention that freight forwarders do not physically move your goods. Moreover, they should not be regarded as being a carrier. To put in simple words, they are known as an acting being an intermediary between shippers and carriers. They go through all sorts of tricky and frustrating administrative aspects of logistics. It means you would not have to worry about the details at all. You may pay that attention somewhere else related to your business, as you know that these freight-forwarding platforms will be working for you.
Do not think that they are just an intermediary? They are indeed quite useful following the right circumstances. In short, it could be said they cultivate a close relationship with officials and carriers all across the globe. It means they work on time networking. Apart from it, they also negotiate in a better way so that your precious money would be saved.
International forwarders are also regarded as being handy with advice. They can introduce shippers' tips as well as tricks to deal with banks, document requirements, regulations, and so on. It is regarded as a quite important consideration for being large and international shippers. It could be a bit difficult for you to research and do remember every logistical detail in every country when it comes to the supply chain. Here, it needs to mention that these codes of conduct probably trivial compared to your bottom line.
You might be wondering what is a freight forwarder does. The important thing is that you require one. You will have to pay attention to the requirements of your business by examining your interests. They also consider the conveniences and consequences of taking the plunge into the freight forwarding pool.
Freight Forwarders For Businesses –
Freight Forwarding Company also introduces incredible benefits to businesses going with a high level of organization, flexibility, and transparency. Here, it needs to mention that forwarders are known for making a living-off of incredible customer service as well as interpersonal skills. Moreover, they also put the best efforts to make your bond formed along with their global agents' quitter stronger in comparison to relationship carriers maintaining with their coworkers.
Moreover, it has also need to do with the competitiveness of the marketplace. There are many agents in the world highly motivated to impress freight forwarders. This way also helps to make more business. Freight forwarders also hole a wide array of incentives to keep their customers quite happy and satisfied. Whether it is about the service, speed, or efficiency, they always keep them on priority.
Hire The Best Cargo Services –
Have you been wondering if your business does need a freight forwarder? You have landed at the right place indeed. Here, it needs to mention that any sort of business shipping freight internationally can truly benefit from a freight forwarder's service. It does not matter what size the business is. If you are going to ship a huge amount of goods, you will have more benefits indeed. The best thing is that freight forwarders are experts in the context of problem-solving. They will be allowed to make a global trade. Therefore, well that cost-cutting solutions and supply chain efficiency are counted as being a second nature indeed.
Blind shipments also become easier if go with cargo services. A blind shipment is all about when one or more parties are involved in the transportation process. Distributors are allowed to request a blind shipment in case they suppose their supplier to ship directly to the customer without emphasizing much on one to each other. It helps to maintain anonymity as well. The best thing is that Cargo Services providers are regarded as being the best bet. Freight forwarders are aware of the complexities you may have while going for blind shipments. But they are good at navigation. They go ahead to ensure all needed parties remain comfortable without getting others to know about it.
If you have been hunting for one of the best Chatelain Cargo Services, you have landed at the right platform. They are known for introducing the best service indeed. As of now, they have assisted many customers and they are happy with their service. In this niche, this platform has truly carved out a special image at the forefront. So, what are you waiting for? The best platform is here to cater to you without compromising the quality.
.