Business
10 Business Ideas to Start With Low Investment.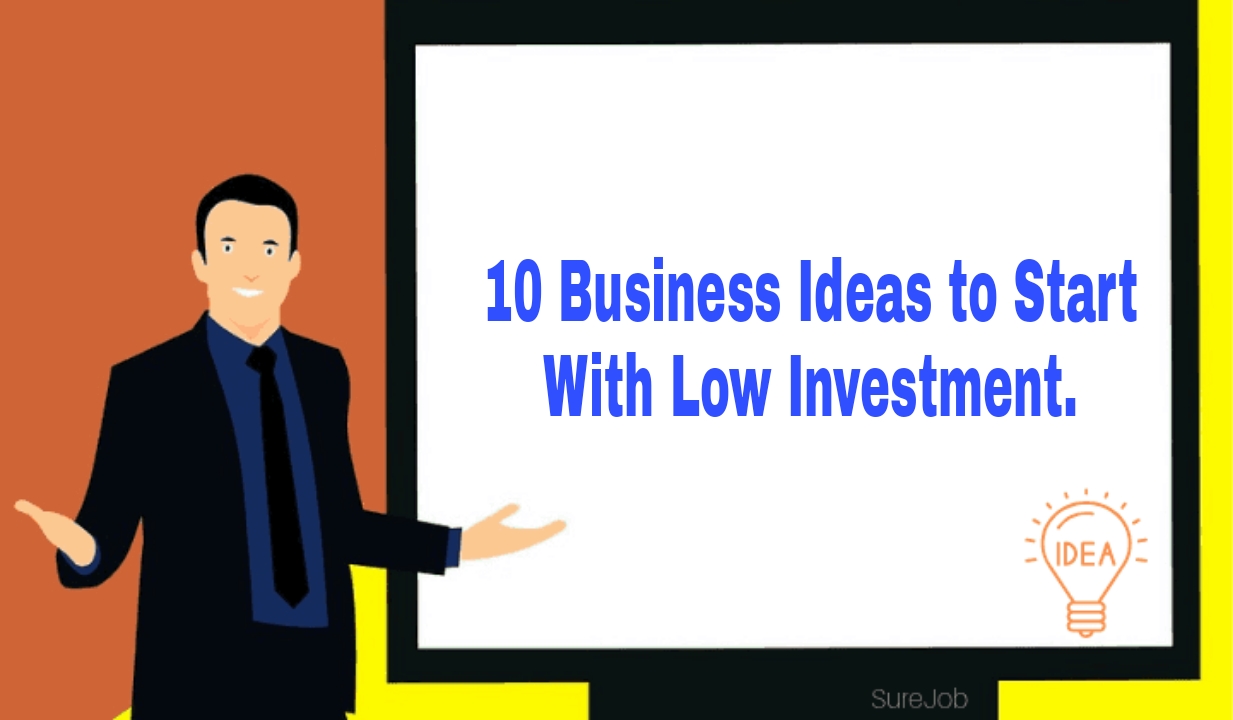 .
Becoming an entrepreneur is exciting as well as risky. One needs both time and money to start a business successfully. If you have an idea, you have to make that idea happen. But you might find yourself struggling if you don't go with proper strategies and market analysis. You may have a mountain of ideas in your mind, but when those ideas lack expert guidance, you end up switching your plan. If you are struggling to balance your business in the right way, then this blog is going to be useful for you. How? Let's see!
Becoming an entrepreneur needs determination and confidence. If you lack a great low-investment business idea, then we will surely help you. There are a lot of low-investment business ideas that help beginners grow without any problem. Here in this blog, we've brought a list of top business ideas to start with low investment.
1. Become a T-shirt Designer and Seller
There is a huge demand for designers T-shirts in the global market. People are looking for customized t-shirts all over the internet. You can create something original for a vast audience and sell it online. Make T-shirts, shirts, hoodies and bags your canvas of creativity and sell them online. There are many online platforms where designers can sell their designs and get paid per product. Printshop by Designhill is a creative print-on-demand online shopping platform where you can sell artwork and earn. You can design a customized t-shirt for both men and women and sell them on Printshop by Designhill. They provide higher profit margins, payment security, printing, promotion and showcase your art on great quality products.
2. Choose to be a Graphic Designer
Visual design is the best way to transmit information in the human brain. Every business needs a graphic designer in order to communicate its purpose. You can become a freelance graphic designer and provide graphic designing services to businesses and earn money. Whether it's a small entity or a big brand everyone needs creative logos, display ads, brochures, flyers, infographics, social media graphics, online campaign graphics, banner designs, etc. for their business. Without a good graphic designer, it's impossible to get creative designs for business promotion. So, create an extensive portfolio of your graphic work and get ready to join the league. If you don't have experience of using professional graphic designing software, then you can take the help of Designhill, which is a free online graphic designing platform. This platform helps you design creative logos, business cards, social media posts, business merchandise, illustration, posters, catalogue and more. The list is endless! So, become a freelancer today and take the help of Designhill for professional designs.
3. Start Content Writing
The internet has created a lot of opportunities for writers. You can use your writing skills to become a successful content creator. Brands and businesses need professional writers who can create content for blogs, articles, social media campaigns, social media posts, etc. You can become a freelance content writer and even hire a team of people who can write content for your projects. The investment is minimum in the content writing business and earning is maximum. People who have great writing skills and good command over English, Hindi or other languages, can choose to become a content creator.
4. Provide online coaching
Gone are those days when teaching was a low-income job. Now education has become a profitable market. With a low investment, you can become an online tutor. One of the best platforms that can help you become a successful tutor is YouTube. You can start online coaching via YouTube. There are a lot of students who are searching for online tutors for the right guidance on YouTube. There are other platforms like Unacademy and Adda247 that provide great career opportunities to the online tutors. Online tutors earn more than offline tutors these days. You can provide online coaching for any subject like English, Hindi, Science, Sociology, Mathematics, Reasoning, etc. and become a successful online tutor.
5. Provide HR recruitment services
Businesses keep hiring new employees every day. But they face difficulties in sourcing the right candidates. You can resolve this problem by providing businesses with recruitment services. With the rising hiring demand, the demand for freelance recruiters is also increasing. You contact businesses, source candidates for them and schedule their interviews. Once the company chooses the candidate, you can easily claim your commission. The investment is low and profit is high in this business. All you need is a paid account of job portals to hire candidates. It can be easily recovered from the commission that you are going to receive from the companies. There is a huge growth opportunity in the HR recruitment business. Once you get the experience, you can start providing other HR services like payroll management & statutory compliance, HR Advisory, HR Audit, etc.
6. Become a translator
If you know 2-3 different languages, then you can become a translator. Being a homemaker and a student, you can easily start with this low-investment business. You can start this business while sitting at your home. If you don't know multiple languages, then you can sometimes learn and later work as a freelance translator.
7. Become a Digital marketing expert
This is a digital era and the digital marketing industry is booming rapidly. Businesses choose digital marketing over traditional marketing these days. So, if you have an interest in marketing, then start your own digital marketing company. If you don't know how to do digital marketing, then you can pursue one to three months of online digital marketing course and hone your skills. The digital marketing industry is booming at a rapid pace. So, if you have a knack for business marketing and storytelling, then you must start your digital marketing company and grow other businesses.
8. Start Online Product Selling
There are tons of benefits to selling products online. You can sell multiple products on different eCommerce platforms like Amazon, Flipkart, eBay, Myntra, etc. There are a lot of sellers who prefer to sell products online because they earn great margins on their products. Also, there is no need to take tension for branding and delivery, as the eCommerce platforms manage it all for their sellers.
9. Become a Social media influencer
Who doesn't like to get fame? We all want to become famous and the internet has made it easier for us. People are becoming influencers on Social media platforms like Instagram and Facebook. So, if you live a lifestyle that people like to follow, then you can become a social media influencer. You can influence people to be fit, stylish and adventurous. People like to follow fashion influencers, fitness influencers, travellers and food bloggers on social media platforms.
10. Sell handcrafted goods
If you know how to DIY soaps, candles, cards, pottery, decorative items, etc. Then you can become a handcrafted item seller. You can sell your handcrafted items online and offline at good prices. People prefer to buy handcrafted items because they are precisely created and safe for use. Selling handcrafted goods doesn't require much investment. It is a low investment business that you can definitely choose to earn great benefits.
Final words
Any business can grow with dedication, right guidance and hard work. So, if you have been searching for the right business idea, then this list will definitely help you.
.