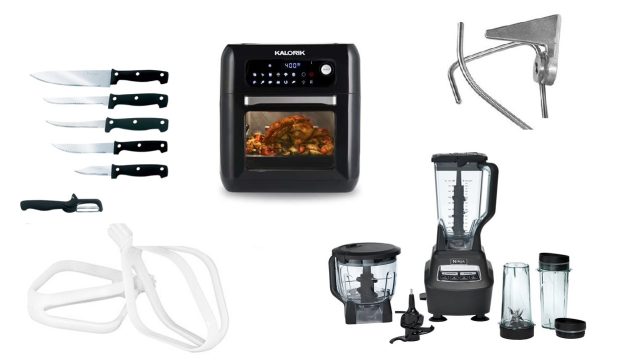 Research Nester reports that the kitchen appliances and equipment market is estimated to reach USD 242.5 billion by 2023, expanding at a 6.5 percent growth rate from 2016 to 2023. 
We all have tried kitchen necessities, but cool kitchen gadgets can improve our cooking experience. On a practical level, gadgets by best brands like Kalorik air fryer, Cuisinart sandwich maker, and Prestige knife can save you time and money while also changing how you cook. 
If you are wondering to know must-have gadgets for your Kitchen, keep reading ?
10 Must-Have Gadgets for your Kitchen 
There's something for everyone, from cleverly designed accessories that wouldn't break your bank to fantastic kitchen gadgets. Here is the overview of 30 of the best kitchen gadgets to buy regardless of your budget or kitchen size.
1. Air Fryer
An air fryer is a small countertop oven that simulates deep frying without the need for oil. Instead, a high-speed fan circulates hot air, producing a crisp coating without losing the nutrition of your food. 
Everything from roasted veggies and chicken wings to French fries and fresh-baked cookies can be air-fried. So, don't hesitate to invest in an air fryer. It will save you time and keep you healthy and happy. 
2. Food Processor
If you have a blender or juicer in your appliance cabinet that you only use once a month, donate them to charity and make a place for a food processor. A food processor can easier your life in a variety of ways.
 For example, it will help you to prepare a shortcrust pastry or meatball in seconds. A good food processor is pricey, but it will save you time and money by simplifying the most difficult tasks. A ninja food processor is considered among the best. 
3. Non-stick cookware
If you're still using cookware that requires scrubbing and scouring after every meal, it's time to convert to non-stick – because busy moms don't have the time. I want to say that a kitchen is incomplete without non-stick cookware because it's so easy to clean. Non-stick will also help you lose weight as you use less oil while cooking in non-stick stuff.
4. Mixer
A vital kitchen item doesn't have to be expensive. You don't need anything fancy; a hand mixer will suffice, but you will need one to cook many recipes. For example, consider how difficult it is to whip egg whites by hand. A mixer with a stand is preferable since it lets you add ingredients while mixing.
5. Garlic Crusher 
Garlic crushers is a culinary tool that you should not overlook. A quality garlic crusher should be durable and easy to clean. The finest garlic crushers are those into which you can drop an unpeeled clove, and it will do the rest. It should also feature a removable, easy-to-clean basket.
6. Vegetable Peeler
When you have the correct tools, cooking is a breeze, and a good vegetable peeler can remove potato skin in seconds a be in your Kitchen. You can utilize your peeler for more than just peeling. You can use the peeler to make crispy sweet potato chips and delicious vegetable ribbons.
7. Sandwich Maker
If you are a busy person, the sandwich maker will help you in preparing breakfast faster. There is a variety of sandwich makers. However, I suggest you buy a good quality product that allows you to switch quickly from grilling cheese sandwiches to toasting crispy waffles.
So, you don't need to bother about burning your favorite sandwiches or harming your investment when you open up the grilling surface with adjustable temperature control.
8. Measuring Spoons and Cups 
It is hard to cook without cooking calculators, measuring cups, and spoons.  Baking is a science, and getting it right is one of the most difficult components of cooking. So, invest in some easy-to-clean stainless steel measuring cups and spoons to ensure you always get your baking measurements correct.
9. Timer
Undoubtedly, a kitchen timer is a great gadget that helps with cooking; the name stems from the fact that the first-timers were used to cooking eggs. While backing and cooking, you can put the timer in your pocket to hear the ding. Besides, your family members utilize the timer for bathing and television viewing.
10. Cooking knife
When asked about their most important kitchen item, an excellent cooking knife is always at the top of any chef's list. A quality knife works for years. A decent knife doesn't have to be expensive, but it needs to be properly maintained, like sharpening your knife regularly.
A razor-sharp paring knife, in addition to an excellent cook's knife, is essential for every Kitchen. It helps you to slice tomatoes perfectly and cut anything small that you can hold in your hand. 
Wrapping Up
There's a gadget for every occasion when it comes to cooking. Walk down the appliance section of your local department store, and you'll see shelves stocked with crepe makers, popcorn machines, electric egg poachers, and other kitchen appliances. 
However, it is hard to buy every machine. The article above lets you know the 10 must-have gadgets for your Kitchen with a small investment. Also, check out how to style your dining with marble products.