Travel
Top 3 Reasons To Travel To Qatar For The 2022 FIFA World Cup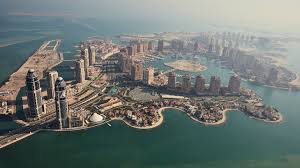 Qatar is a small country in the middle east, off the coast of the Arabian Peninsula where the 2022 FIFA World Cup is going to be held. The capital city is Doha, which is where the majority of the matches will be played around various stadiums. Other surrounding cities will also host matches over a total of 8 stadiums. There are many reasons that one would be keen to travel to Qatar for the 2022 World Cup, but these are the main three. 
The people of Qatar are wonderful, friendly, and courteous. They make you feel safe and are extremely generous. They are some of the nicest people in the world and are very welcoming when it comes to international travelers. This can be seen in not only the quality of the hotels but the people who work in them. At no point will you feel unsafe in Qatar and the honest and compassionate quality of the people will make that evident.
The World Cup is quite a spectacle for sure and although Qatar was a controversial choice to hold the tournament, it has the resources to make for a truly exciting event. The stadiums are all world-class and it is relatively close to Europe, where most of the football fans are. 32 teams will be competing for the coveted trophy and the World Cup final odds are in favor of the usual highly-skilled teams such as Brazil, Argentina, and of course reigning champions France. There is not much more to say about this except that it will no doubt be one of the most exciting and highly contested World Cups in the history of the game.
Read Also : What is VPN Split Tunneling?
The 2022 FIFA World Cup is set to be held in November/December due to concerns about the heat in the hosting country. Qatar is a Middle Eastern country where it is essentially dry all year round but slightly cooler in November, which is why the decision was made to move the event to later in the year than normal. The decision has come under fire from fans who believe it should be held in the traditional summer months. Fans that live in Europe and go to the games however will find that it was the correct decision to make. The average temperature in Qatar in June is about 42 degrees Celsius (108 degrees Fahrenheit). It is generally about 10 degrees Celsius cooler in November so it is much more hospitable for international fans, even though many will still find it sweltering. If you decide to attend the tournament though, you will be able to enjoy some time off and bask in the heat that you would otherwise miss out on if you stayed home.
To give an idea of the distance to Qatar, it is about 5200km (3200 miles) from London, is about a six and half-hour direct flight and rough prices currently would be about US$1000 (€840 or £710) return. If you were to travel to Doha from Melbourne, Australia, the distance is about 12000km (7500 miles) and is about a fourteen and half hour direct flight with prices currently around US$2100 (AUS$3060) return. So, depending on where you are traveling from, you may prefer a direct flight or you might want to have connecting flights so you can break up your trip and visit other countries. 
If you do intend to travel to Qatar to attend the games, it would be wise to book ahead as flights to that region in November will no doubt be busy.