Tech
Ways to Recover a Disabled Facebook Account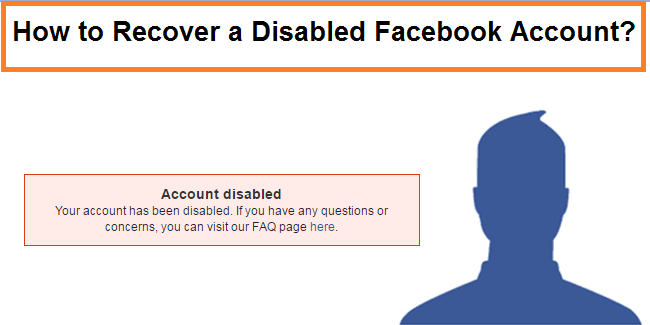 Social platforms are all over the place in an era that is ruled by technology and sophistication. People use social media applications to communicate, learn, and even personalize their own space with the help of high-tech filters and features.
.
One of the oldest and the most used social platforms on the planet, Facebook has been a blessing for tons of people who access their accounts for professional, personal, or entertainment purposes. You can easily create a Facebook account and benefit from several filters and features that are at your disposal.
However, if we wish to part ways with the platform for some time, you can easily disable your account. The difficult thing for most of the users is that they are unable to recover their deactivated or disabled accounts. Make note of the fact that you can only recover within 30 days of the deactivation, if your Facebook account was permanently disabled.
.
If you also wish to recover your disabled account, then today we bring a couple of tricks to recover your disabled Facebook accounts.
.
Methods to recover your disabled Facebook account
1.
If you disabled your account
.
●
You can visit the official homepage of Facebook by clicking here,
https://www.facebook.com/
.
.
●
You can easily recover your account just by logging in if you disabled your account temporarily, but if you
deactivate
your account permanently, you only have a month in your pocket before Facebook removes your data from the platform.
.
●
Once the 30 days have gone by, the only viable option you have of having a Facebook account is if you create a new one.
.
●
Start by entering the correct email address or mobile number. Use the phone number or mail address that was linked to your disabled Facebook account.
.
●
Fill out the password field by entering the correct password in the box given just below the email box. If you somehow forgot your account password, click on "
forgot password
" and follow the instructions given below;
.
▪
Answer the security question to confirm that it's your account.
▪
Facebook will send you a confirmation code on either your mail or your phone number.
▪
Enter the confirmation code and you can easily reset your password.
▪
Make sure to create a firm and easy to remember password.
.
●
Now, click on log in. you will access your account with ease.
.
●
Once, you are logged in click on the "cancel deletion" if you have logged in before the completion of the 30 days termination process.
.
2.
If Facebook has disabled your account
.
●
Before trying to recover your account, make sure to visit
https://www.facebook.com/
. Try to login by entering your email address and password, if a message saying "account disabled" pops up on the screen it means that Facebook has blocked your account. Only then can you file an appeal for the recovery of your disabled Facebook account.
.
●
If you can log in, it means that everything is normal. If not then it means that you have violated one or more guidelines. Some of them include impersonating someone, harassing other users, spamming, and having a fake name.
.
●
If you think that this was a fluke or an error on Facebook's part, then you can request the site officials to investigate the whole problem by filling out a form via this link
https://www.facebook.com/help/contact/260749603972907
.
.
.
●
Now, type your Facebook username into the "full name" field. Make sure that you don't enter your official name instead of the user name as both of them can be different.
.
●
Next, you will have to upload a picture of your ID. You can upload it using the steps given below;
.
▪
Click a photo of any of your ID proofs. It can be a driver's license, a passport, or even a learner's permit.
▪
You can also use any mobile phone to click the photo and then send it to yourself via email.
▪
Once you've sent the ID picture, click on the "choose files" option.
▪
Select the upload option and now click on open.
.
●
You can also add any extra information that might be helpful in the "additional info" field. This info can include;
.
◦
Visual evidence that proves your innocence.
◦
If your account was hacked.
◦
If your username differs from your real name.
◦
If you suspect someone who harassed you in the past and is now behind all this.
.
●
Click on the "submit" button once you have filled out the form. The appeal for the recovery of your account will be sent to Facebook. They will send you an email if they decide to revoke or uplift your deactivation.
.
These methods can help you to recover your temporarily or permanently disabled Facebook account. For further info, you may contact the Facebook help center.
.
.