Business
What you need to know about optimizing your Vrbo listing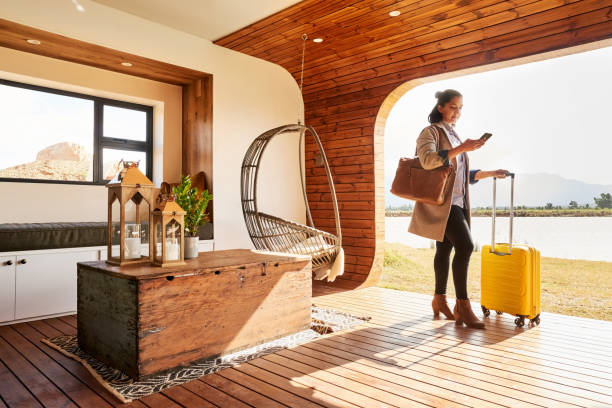 Without a question, Vrbo is one of the most well-known websites for connecting homeowners with travelers interested in renting holiday homes. Vacation rental businesses looking to maximize their business could advertise on Vrbo, which receives over 3 million monthly visits. Learn how to easily list on Vrbo here.
However, as we all know, nothing is perfect. The battle has become more heated than ever as a result of Vrbo's growing popularity.
Many hosts feel that merely by listing their property on Vrbo, they would receive traffic and reservations immediately. While this may be true in some circumstances, you should still strive to improve your home's appeal and competitiveness.
Make no mistake: owners must be proactive for their vacation rental to appear prominently in search results.
Here are some Vrbo ideas and strategies for owners to differentiate themselves from the competition now that their rental is being exposed to and sold to a wider audience.
Why should your Vrbo listing be optimized?
The reason you should optimize your listing is straightforward: increasing your listing's visibility in Vrbo search results is an excellent way to increase your revenue. Their search engine assists tourists in quickly obtaining pertinent information. As a result, optimizing your listing with your guests in mind is a wise move. You'll need to examine the type of tourist you're attempting to attract and the type of information they may be looking for during their search. Everything you do will have an effect on your rankings, which will help you attract more bookings.
Therefore, continue reading if you want to learn how to ensure you're always in the first place! Consider the most critical Vrbo optimization ideas and strategies.
How to boost your listing on Vrbo
While the competition is tough, you can leverage a variety of techniques to increase your property's visibility. Continue reading to discover our top Vrbo tips and tricks.
Make bookings as quick as feasible.
Allow guests to reserve your home immediately rather than waiting for a response. Vrbo reports that listings that incorporate online booking obtain 50% more reservations than those that do not. When 90% of guests prefer to book online, it's a no-brainer.
Accepting bookings and payments in real-time through Vrbo simplifies the process for both parties. As a result, your visibility on Vrbo will increase and you will appear higher in search results. Owners are overjoyed to have the nights blocked off their calendars, while guests appreciate the expedited approval of their accommodation requests.
Create an attention-grabbing title
Make the property headline count. It will be the first thing guests see while searching on Vrbo. That is why it is prudent to consider your competitors first and consciously build something that differentiates you from them. Utilize your uniqueness to entice potential visitors. Play to your strengths – what unique features do you have in your home?
There are numerous different methods for enticing folks to click on your listing. Whether it's a limited-time "Late Summer Special" or a Valentine's Day couples discount, eye-catching promotions can help you stand out.
Additionally, if your vacation property has a brand name, you should include it. Information that is already present in the description should be omitted. Additionally, you should avoid utilizing all capital letters. This may convey an attitude of despondency and hostility.
On Vrbo, your first photo must be your best 
else, you risk frightening away potential guests. Anyone who has ever booked a hotel or other form of lodging online understands how important photographs are in making or breaking a listing.
We're talking about contemporary, current, professional vacation rental photography that is high-quality and well-staged. Don't forget to take advantage of each Vrbo listing's 24-photo upload limit. Consider it a one-time investment that will yield dividends year after year, even if your booking calendar is fully occupied.
For the greatest quality, Vrbo recommends uploading photographs with a resolution of 3840 x 2160 pixels or higher. Additionally, it is critical to evaluate the subject matter of your images. Before taking photographs of your home, consider what your guests want to see. Cleaning and cleaning any space, as well as organizing, straightening out, and removing personal items and "junk," would significantly increase the property's appeal.
Read Also: Arena in World of Warcraft: PVP mode features and tips for beginners
Never Cancel
It's annoying to deal with visitor cancellations, but you know what's even worse? Being unable to complete tasks on your own!
Nothing frustrates online travel businesses more than hosts canceling their guests' reservations, even if the reason is legitimate. We are not kidding when we suggest that one or two close cancellations can result in a significant drop in your listing's quality score. Wishing you the best of luck with your recovery!
If you cannot avoid canceling the reservation, you should attempt to establish an agreement with your potential guests to cancel it on their own. What are the probabilities? They may return to your rental at a later date, and you will avoid the negative mark on your record.
Bear in mind that the fewer cancellations you make, the higher your site rating will be. If you have a high cancellation rate, you will rank lower in search results, making it more difficult for guests to find and book your property.
Include information about the location
By including a confirmed property address in your rental listing, you can improve your listing's ranking on Vrbo. However, do not fear: Vrbo will not disclose your precise address to users; rather, it will utilize it to locate a rough location on a map search.
Bear in mind that location tags such as "Downtown," "Rural," or "Waterfront" should be included. When potential guests narrow their search results, these labels will assist them in locating your home, increasing its visibility.
They're also quite easy to set up, so you're missing out if you're not using them.
Maintain an up-to-date calendar at all times
Nothing is more infuriating for travelers than attempting to book a hotel and discovering that the calendar has not been updated in months and the resort is fully booked. Maintaining accurate availability will assist you in obtaining additional reservations while also preserving the integrity of your listing.
If you do not update your calendar at least once every 60 days, Vrbo will remove it from the listing page. However, this is merely to keep it on the list! We recommend performing this task at least once every 30 days, if not more frequently, to ensure good visibility. Additionally, Vrbo recommends the following: With a vacation rental channel manager, you can maintain an up-to-date timetable and maintain complete connectivity with other listing sites.
Offer special pricing for the initial few reservations
Getting started with OTAs can be the most challenging aspect of the job. If you're new to Vrbo and want to lure tourists to book your property immediately, you'll need to make an attractive offer. The majority of guests will instantly ignore any listings that have not yet been booked.
Offering a slightly lower nightly rate than your closest competitor can be an excellent approach to secure your first few bookings. You may only be able to convince a few people to rent from you, but that is all that is required! Once you've collected your first four or five reviews, things will become much easier, and potential guests will be much more willing to choose your place.
Setting lower rates at the start will ensure that new Vrbo hosts receive bookings quickly. Simply remember to update them in the future.
Become a Vrbo Premier Host
Who doesn't occasionally require a pick-me-up? Vrbo's Premier program, which is similar to Airbnb's Superhost program in that it recognizes and rewards performance, is open to the best hosts on the market.
Being classified as a Premier Host by Vrbo entails the following benefits: the ability to enroll in their Boost program. Boosts, like "power-ups" in video games, give you a temporary edge over your opponents.
Each time a visitor checks out of your property, you'll receive a boost, which you can utilize to improve your listing's ranking higher than it would be otherwise!
It is now your turn
On OTAs, competition is fiercer than ever, and Vrbo is no exception. It's unsurprising that if you want to fully benefit from your appearance on the platform, you'll need to prepare.
On the other hand, our top Vrbo listing tips will help you compete on an equal basis. When you follow this advice, you'll receive more inquiries, bookings, and a higher rating in Vrbo search results. Read this guide to understand how to utilize social media to market your listing.