Lifestyle
7 Key Things to Do to Keep A Clean Carpet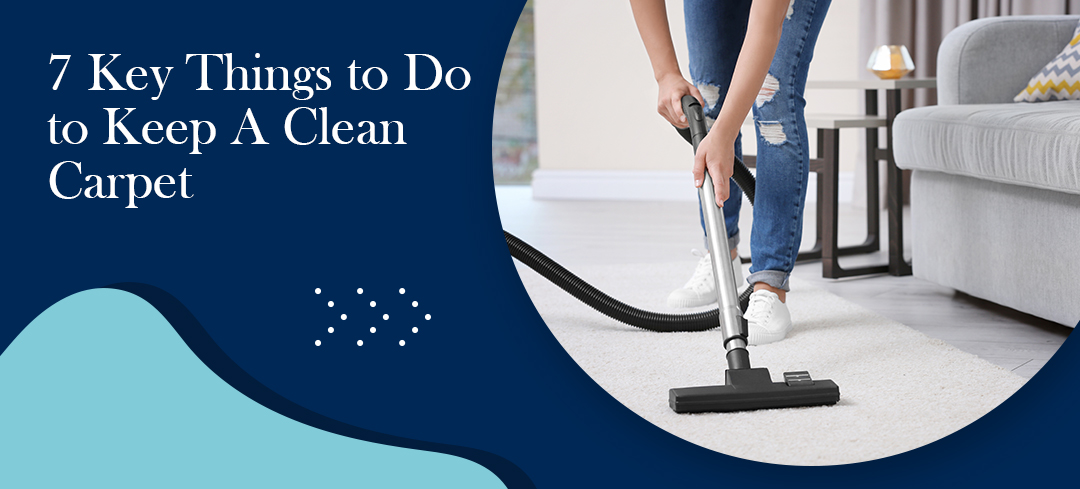 Without doubt, carpeting remains one of the most popular flooring options, outshining other flooring options such as tiles, hardwood floors, and laminate floors. Carpets do not only offer cosiness and warmth, but they also provide additional beauty to the aesthetic of your home interior. In addition to that, the care and maintenance of carpeting options are relatively easy compared to hard surface flooring. You can also hire a professional to get the best carpet cleaning in London.
Carpets are quite an expensive accessory in the home, which is why you would need to keep them in excellent conditions for as long as possible. If you're willing to dedicate time and attention and follow our 7 key tips, then you can be guaranteed to keep a pristine-looking carpet for as long as you desire.
Keeping A Clean Carpet
1. Regularly Vacuum Your Carpet
One of the simplest and most effective ways to keep a clean carpet is through consistent vacuuming. It is quite easy for dust and debris to pile up in the fibres of your carpet, and this can reduce the quality of indoor air in your home. Ideally, it is recommended that you vacuum your rugs a minimum of once every week. However, if your rugs experience high feet traffic or you have pets, then you would have to vacuum your carpet more than once a week. When vacuuming, make sure you don't neglect the regions under carpets and furniture.
2. Before Vacuuming, Sprinkle Baking Soda
Asides from having a clean carpet, it is also necessary that your carpet emits fresh scents. Thus, before you vacuum your carpet, be sure to sprinkle some baking soda all over it. This simple act of sprinkling baking soda is powerful enough to keep your carpet odour-free for a long time.
3. Don't Hesitate To Treat Stains As They Occur
It's normal to experience unsightly spillages and stains in the home, especially when you have little children and pets. Whenever you see a stain on your carpet, you should treat it immediately. It becomes harder to remove stains when they stay on the carpet for a longer time.
All you have to do is apply a suitable cleaner for carpets, and using a clean fabric, blot it as gently as possible. Do not succumb to the practice of rubbing stains as this can cause the stain to penetrate deeper into the carpet fibres. Continue to blot the area until it is completely dried, and then you can vacuum it.
4. Give Your Carpet Protection
Carpets are easily exposed to several forms of pollutants and dirt. This is why it is necessary to protect your carpet by placing a quality rug in areas most vulnerable to spillages or high traffic regions.
It's better you also add a rug in your entrance, to prevent the buildup of dust. You can also place one beneath your dining table. Definitely, you would still need to clean and care for these rugs, but it's much better than laundering the whole carpet.
5. Raise Your Furniture and Heavy Appliances
You should also protect your carpet from heavy appliances and furniture. By placing blocks of wood under the legs of your furniture, you are able to protect your carpet from wood finishes, paint stains, metal casters etc., in case the carpet becomes damped.
6. Do Not Wear Shoes on The Carpet
One of the most effective ways to keep your carpets from debris and other dirt is having a "no shoes inside the house" policy. It should become a family habit to remove shoes before stepping on the carpet and implore your visitors to do likewise. This will help to protect your carpet from the potential damage that can be caused by the tread of shoes.
7. Hire a professional carpet cleaner
Yes, we know you're probably thinking "that sounds expensive". But this is, in fact, the best way to maintain the integrity and durability of your precious carpets.
We, therefore, recommend that you hire a professional carpet cleaner two times every year for deep cleaning. Although you can also choose to do it yourself by renting carpet cleaning equipment, you would, however, achieve better results with a professional carpet cleaner.
What Is The Essence Of Professional Carpet Cleaning?
There are many advantages to cleaning your carpets regularly. And there are even more benefits when the job is handled by a professional. Below are pros of hiring a professional carpet cleaner to clean your carpets:
•
It eliminates the growth of
mo
u
ld
after water incidents
•
It enhances the overall beauty and appearance of your room
•
It prolongs the lifespan of your carpet
•
Professionally cleaned carpets also eliminate traffic routes, particularly for full households
•
It also increases the quality of indoor air in your home
•
Finally, it thoroughly extracts dirt, debris, bacteria, mildew, and allergens that are hiding in your carpets. This
, therefore,
creates a healthier environment in your home.
What more are you waiting for? Take the right actions today to keep your carpets looking clean and smelling nice. Hire a professional carpet cleaning company today!