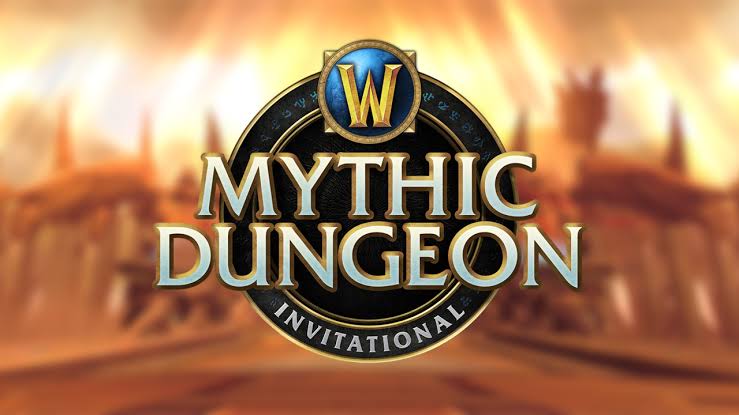 Mythic+ Dungeons offer an infinitely scaling contest in 5-player dungeons. Like Challenge Modes, players compete against a timer, but the main focus is solid execution rather than speed. Each dungeon runs the gamut from easy to insanely complex, and there are even bonus dungeons available for those who complete the primary campaign first. 
The system is designed to keep players hooked with new challenges as they level up their characters, and it's perfect for anyone who loves a good challenge. So whether you're a veteran player looking for something new to do or a first-time adventurer looking for an exciting way to fill your afternoon, the Mythic Dungeon system is sure to offer what you're looking for.
WoW Mythic + Dungeon
Mythic+ dungeons have levels; a level 3 dungeon is more challenging than a level 2 but more accessible than a level 5. Dungeon enemies become more dangerous and more healthy as your party levels up. Higher-level loot can be found in mythic+ dungeons. 
Dungeons become more sophisticated as they advance in level and acquire "affixes" that modify the behavior of the creatures. In addition, players will obtain Mythic+ items in the Great Vault based on their performance during the previous week's Mythic+ dungeon lockout. Except for Tazavesh, all of the Shadowlands' dungeons are Mythic+.
Completing a Mythic+ Dungeon
Before the timer expires, the player must eliminate all bosses and trash in a Mythic+ Dungeon. Once the dungeon is finished, you'll receive a loot chest and an updated Mythic Keystone.
When the countdown expires, the group receives Anima and two items of the proper level, and the person who used their Keystone gets a new, higher-level Keystone from a different dungeon.
Even if the timer runs out, you will still receive Anima and one prize item. The lower-level dungeon is indicated by the Mythic Keystone. You will receive a Keystone that is of a lower level and no prize if you don't finish the dungeon.
When the dungeon is finished, a toast window shows whether you beat the timer. If you beat the timer, this window displays the number of Keystone levels improved and the run's Mythic+ Rating.
Mythic+ lockouts
No lockouts exist in Mythic+. You can complete as many Mythic+ dungeons as possible if one team member possesses a Mythic Keystone. Every Mythic+ dungeon run that is finished offers treasure based on level and timing. Still likely to obtain items from the same level or dungeon (or both!)
Lockouts differ between "regular" Mythic dungeons and Mythic+ dungeons. Loot from Mythic+ dungeons and vice versa can still drop from Mythic dungeons.
Combat Resurrections
Everyone shares Combat Resurrections in Mythic+ Dungeons.
The cooldown and charges for each player's battle resurrection are the same as for raids.

Resurrections are expensive. Cancellation of Combat Resurrection is free.

Every ten minutes, the party adds one charge to its initial one.

Five charges can be stored.
Engineers equipped with a Disposable Spectrophasic Reanimator make a strong choice for combat resurrection.
WoW Mythic Boost 
WoW Mythic Boost helps players complete all expansion dungeons on the hardest difficulty. In addition, this service boosts players' power so they can meet all dungeons in the current expansion at the same level as their friends. With the mythic plus boost, players can quickly complete all dungeons in Mythic mode and get a significant advantage over their competitors. 
If you're looking for a fun and exciting challenge, WoW Mythic carry is the perfect option!

With mythic dungeons offering high levels of difficulty and rewards, it's no wonder many players are eager to get their hands on a mythic boost!

Not only does this type of boost give you an edge in the game, but it can also help you to reach new heights in your career as a player!

If you're undecided about whether or not to purchase a mythic carry, now is the time to decide – plenty of great deals are available right now!

So don't wait any longer – make your purchase today and start enjoying the challenge that WoW Mythic carry offers!
Real mythic plus boost talent can be found at Boosthive. Boosthive regularly runs Mythic+ professional dungeons and is consistently ranked #1 for Mythic+. They have mastered every mythic + dungeon and can complete it on keystone difficulty levels of +10, +15, or +20. Boosthive can help you with any Shadowlands mythic dungeon, and there are no requirements for gear or level of experience.
Read Also : What is an SSL Certificate? Everything you need to know
Verdict
In conclusion, the Mythic dungeon guide is a valuable resource for anyone looking to level up their character quickly and efficiently. This guide can help you get the most out of your WoW experience with detailed maps and information on the bosses and items within. With new mechanics and encounters, as well as updated rewards, it's a great way to keep things fresh. So if you're ready to start tackling some of the game's biggest challenges, the Mythic dungeon guide will help you. So what are you waiting for? Go raid some dungeons!