Business
10 Tips on Becoming a Digital Nomad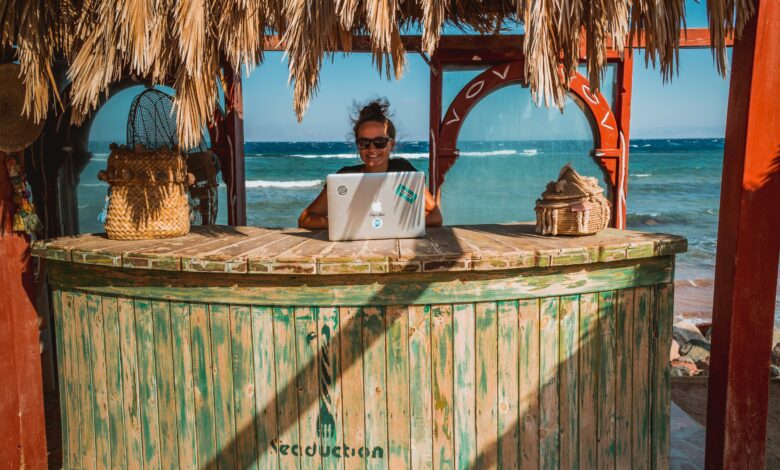 Digital nomad? We can see you raising your eyebrows but before you dismiss us, let's clarify… digital nomads are technically remote workers but with a difference; they aren't restricted to one location. In fact, they work out of multiple locations; wherever I lay my hat comes to mind.
Technology and the advancement of mobile working has meant that many remote and freelance workers are now able to work from anywhere, via mobile data or Wi-Fi; and when we say anywhere, we really do mean anywhere – Paris, Rome, London, Washington, on the beach, in a café and while traveling.
So, you want to be a digital nomad?
Of course you do; what better way to have your cake and eat it. In fact, since the Covid-19 pandemic, remote working has grown exponentially with many employees now demanding a hybrid working environment – 50/50 between working in the office and working remotely. Remote working is nothing new to freelancers either but many are now finding that with the help of mobile devices and more comprehensive online tools, they don't need to be sat in one place to do their job.
But before you jump ship from your safe, secure, regular pay job into a nomadic lifestyle, take some time to think about what, why, how and when. You need to know what you're good at, i.e. your key skills; you need to know why you want to be a digital nomad and understand your motives; you need to work out how you can achieve your dream of being a nomadic worker; you need to calculate when the best time is to take that's step into your new nomad life.
Top tips to start your digital nomad journey
To help you get started on your digital nomad journey, we've put together our top ten tips to guide you.
What are your best skills?
First of all, consider what you are good at. What are your best skills and do they match the jobs in-demand digital nomads are filling? There's quite a choice of roles to choose from, such as:
    Web design and development

    Graphic design

    Digital marketing

    Copywriter and content management

    E-commerce/online shop

    Virtual assistant

    Blogger or vlogger

    Translator

    Online teaching

    Social media management
You may find that you need to update or fine-tune your skills and there are plenty of online learning platforms to help you, like Udemy and Shaw Academy. Online courses are a great way to upskill cost-effectively and once you've completed the course (and passed!), you will get a certificate that you can display, building credibility and trust.
Finding your digital nomad niche can take time and it's a good idea to gain some experience in your chosen area. Think about building up your skills, completing online courses and building practical knowledge before you leave your full-time job.
Connect with digital nomad communities
There are a variety of online digital nomad communities which you can join and connect with like-minded digital nomads. These communities or groups on social media, like Facebook, are a great source of ideas, knowledge and support. Digital nomads are a friendly bunch of people who are willing to share their experiences to help you on your nomad journey.
Learn from other experienced digital nomads; ask questions about where the best cities and countries are to work as a nomad, living costs, accommodations and the type of job roles available. Facebook has a few location-specific groups or join nomad-specific platforms, such as INDY, who offer a variety of online tools, like proposal templates. 
 Location, location, location
Where you decide your nomad destinations are going to be can have a bearing on how successful a digital nomad lifestyle you will have.  Some countries and cities are popular with digital nomad communities, which provides a great source of information but it really depends on your budget. You will have to consider a variety of aspects and expenses, including:
Where you're going to live

The cost of living, i.e. eating and heating

Whether visas or work permits are required

Whether Covid-19 vaccinations are mandatory (a sign of the times!)

The cost of travel – are you going to fly, take the bus or coach, use your own car or travel by train?

Leisure activities and their cost (you may have an expensive hobby!)

Where you're going to work, like a co-working space
Do your due diligence and research thoroughly so that you can set your budget. Of course, the more work you do, the greater your earnings and the more likely your budget can expand.
Invest in health insurance
You never know when you may need medical help; in some countries, medical services are free but in other countries it can get very expensive. Investing in a health insurance plan, particularly a package that includes medical help for overseas travelers, can ensure that you don't find yourself in a situation where you are either in deep debt from medical expenses, or cannot afford treatment.
Make sure your insurance package covers medical services in the countries your visit as well as your home country. You need to be able to make claims online and if you have any pre-existing medical conditions, check whether they are covered or exempt from your policy.
Don't forget travel insurance
While you're looking into health insurance, don't forget travel insurance that doesn't just cover you for traveling to European countries or your home turf. Make sure it covers you for traveling worldwide.
Bank accounts and credit cards
It all comes down to access to ATMs and fees. For example, various banks in the US charge fees when you use a different bank's ATM. Some banks charge and ATM providers charge their own fees, which could lead you to paying double fees. So, choose a bank and either don't charge these types of fees or give back your ATM fees worldwide, like Charles Schwab.
The same principle applies to credit cards, which will make traveling much easier. To avoid paying transaction fees for foreign purchases, opt for a premium travel credit card that doesn't have transaction fees. You may also get a variety of other benefits.
What are your equipment needs?
No matter what your nomad work niche is, you are going to need equipment. Keep it as simple as you can; remember you will be traveling so you don't need to be carrying lots of different bags.
Start with your phone; a smart phone preferably that has sufficient memory to hold the data necessary for various apps. Your phone plan is crucial. Look at international roaming charges, whether you can cap your data usage to a specific level, how much data allowance you have or unlimited, and check for any free applications, such as WhatsApp or local calls.
Your computer, or laptop, must have the capacity for a Virtual Private Network (VPN) from a reliable VPN provider. In some countries, you will be unable to access social media platforms or other streaming services unless it is via a VPN. It must also have a robust built-in Wi-Fi adapter and integrated camera/microphone for video conference calls.
Also Read: Why Social Media Accounts Are Important for Business
Consider a co-living community
If you're new to a nomad lifestyle and just starting out on your digital nomad journey, it may be worth considering joining a co-living nomad community. You will have to apply but they do aim to help those that are new to being a digital nomad. The communities organize events and bring together nomads over a period of time from different locations.
Ask for testimonials
Working remotely, as a freelancer or entrepreneur, the better your reputation the more likely you will generate more work. Getting testimonials from previous and existing clients helps to make a positive impression, adds credibility and builds trustworthiness. Don't forget to put the testimonials on your social media pages, such as your LinkedIn page as a recommendation.
Other way to becoming a digital nomad is to be able to keep your contact with clients or work notifications at an easy reach. The only way to do it is to keep your phone with you at all times, other than your laptop or pc. Here's where the magnetic phone holder will come in handy for digital nomad aspiring like yourself. Easy enclosing, quick grab and slide-in are some of its good qualities.
Get saving
You may be lucky and enter your digital nomad lifestyle with a client list and can start earning money immediately. But in many cases, this doesn't happen and you'll have a period of time before you start to get work, and then get paid. Therefore, it's important to ensure you have sufficient funds to sustain you for at least six months while you promote yourself and market your services to attract clients. 
Adopting a digital nomad lifestyle is not for everyone; that said, sometimes you may not realize this until you've given it a go.  If you've been working as a freelancer or as a partner in a business, or you worked from home during the Covid-19 lockdowns, you will have some experience in remote working and this will give you a good basis from which to take the next step into becoming a digital nomad. 
Nobody said it was going to be easy but you can have a career as a digital nomad, and a successful one, too. The more you plan ahead and set up your 'office', the greater your research so that you have all the necessary information you need to hand, the smoother your journey.